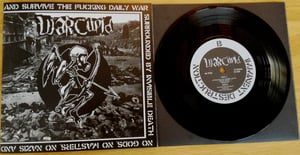 £

3.50 - On Sale
NEW RELEASE FROM IMMINENT DESTRUCTION RECORDS!
CO-RELEASED WITH THE MIGHTY TERROTTEN RECORDS
Conceived a few years ago, WARCUPID is a project comprised of members of GRITOS DE ALERTA, LIVING IN HELL, DISARM and HOMICIDE!
WARCUPID rage through six brutal raw punk-crust tracks.
All those oppressed and over-whelmed by the disgusting reality that harvests our life day after day will be hit by the death cupids arrows full of influences from DISCHARGE, ANTI-CIMEX, DISCLOSE and CRUCIFIX.
The lyrics are as harsh and unforgiving as the music...
Anti-Poser D-Beat!