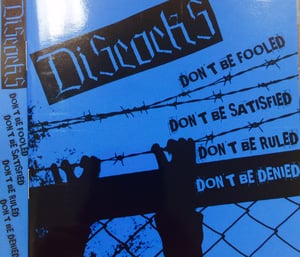 £

7.50 - On Sale
RESTOCKED!!!
Full title of this brilliant album is 'Don't Be Fooled, Don't Be Satisfied, Don't Be Ruled, Don't Be Denied'
One of their final releases, this 11 track album is probably my favourite release of theirs, narrowly beating 'Long Live Oi!'
They sound so much darker on this recording, less party and more fury.
These songs definitely show the precursor to what became ROUGH STUFF.
Superb UK82 vibe and catchy bass lines with songs you wanna sing along too while walking to / from the pub.
Comes with booklet and OBI.
Recommended.