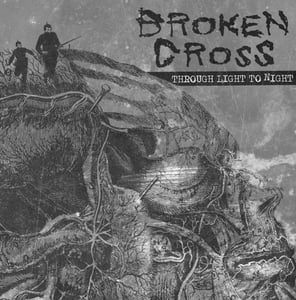 £

7.00 - On Sale
10 tracks of atmospheric hardcore metal / punk from Sweden's BROKEN CROSS.
This is the first full length after two 7" and is a huge step above both previous releases in my opinion.
A complex LP that draws you further in on each listen, crust punk basslines overlapped with melodic metallic leads and wailing solos, interspersed with samples in short measure.
(the GISM 'Nightmare' sample is especially pertinent)
This is the kind of record you need to play through in one sitting to fully appreciate, although the songs 'Total Isolation', 'Into The Fire', 'Path Of Destruction' and 'Forsaken Existence' could make an outstanding EP in their own right but interwoven between songs that display other styles on this LP, they serve to mix power with emotion.
An interesting and compelling album that will be different from anything else you hear this month, or any time soon.
Excellent stuff for fans of EyeHateGod, Integrity etc.
AS ALWAYS, I SHIP TO ANY COUNTRY SO IF YOU EXPERIENCE PROBLEMS ON CHECKOUT, CONTACT ME AND I'LL SORT IT OUT.